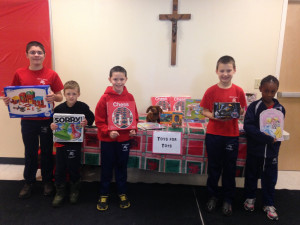 Advent is upon us! Advent can be a challenging time for families. The biggest challenge we all face in today's culture is the push to purchase the perfect gift. Moreover, Christmas is commercialized to such an extent that Advent is overshadowed by Christmas. Christmas is wonderful, but Advent is a season of preparation and waiting for the wonder of Christmas.
The awe of Christmas cannot be achieved unless we are willing to wait. As we wait for amazing gifts, the longing for the gift intensifies; such is the true purpose of Advent.
But the real question is, what are we waiting for? Are we waiting for gifts? Are we waiting for the validation of our purchasing decisions? Or, are waiting for an Infant Savior?
I am always awestruck by the notion that God possesses such an intense love for us that he becomes a baby. Who can resist loving an infant? And yet, babies are vulnerable and dependent. This is the condition God was willing to enter to show us the depth of His love. The power of this invitation to love incites wonder and excitement that deepens our appreciation for all the gifts we receive.
We hope and pray that your family will have a blessed Advent. Distractions and chaos are realities of the season, but Mary and Joseph also experienced a heavy dose of crazy as they prepared for the gift of their firstborn son. May we all look to the Infant Redeemer and experience true peace that only a stable can provide!
Yours Truly In Christ,
Derek Tremblay