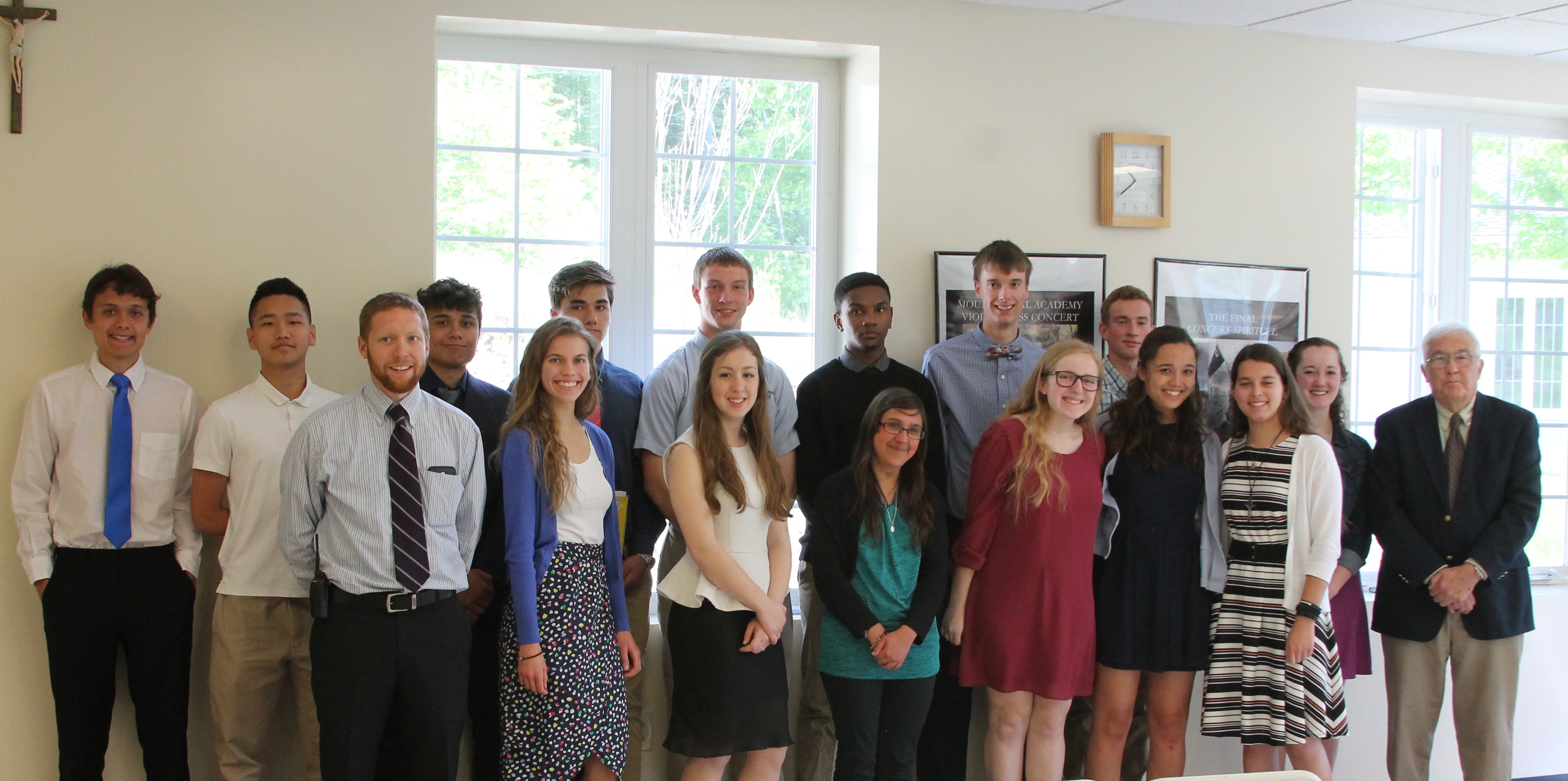 Dear Families,
The last week of school for our seniors and eighth graders is drawing to a close.  They, understandably, are overjoyed, but we are sad that they will soon be gone.
We have commented several times this year on what a great group of kids our senior class is, effectively leading their fellow students.  This class has been willing to jump in whenever we ask them to help, or even when we don't.  You have seen their leadership through participation in student government, National Honor Society, sports, drama and campus ministry, but they lead through example in many small, unnoticed ways as well. They have picked up the gym after Mass, collected trash after school, played with elementary kids at recess, planned tokens of appreciation for coaches…all without prompting.
At MRA, we try to model for and teach our students that leadership is service.  One of the first conversations had with newly elected junior high student government officials this year was that leadership is not, in fact, a power position or an opportunity to impress one's own will on others.  Those in student government quickly find that their role involves a lot more sweeping the lunchroom floor at the end of game night than it does telling other people what to do.  And what a great life lesson, to show our kids that generosity and humility, not selfishness and arrogance, are the hallmarks of a great leader.  Whatever our kids end up being in charge of– a family or a small business or a major corporation – they will have understood that true leadership, at its core, is the willingness to serve others in whatever capacity is necessary for the good of the whole.
An example of servant leadership that I have used with our students is our own headmaster (he will not be thrilled that I am writing this).  Working with him in this role has given me the opportunity to witness his willingness to do whatever it takes to make our school work.  I have seen him mop floors before everyone arrives in the morning, cover classes when we are unable to find a sub, support students at events on his own time out of school, work crazy hours, collaborate with people countless times and in countless ways in order for this school to be a good experience for them.  Certainly, being a leader is an often discouraging and exhausting job, and we are fortunate to have a headmaster who is tirelessly faithful to our school community and an excellent model of leadership through service.  
Whatever our graduates choose for their life's work, they know that giving of themselves to others is the means to becoming a leader in our world and a saint in the next.  "It is just this – to find myself at my death with empty hands – that gives me joy, for having nothing I shall receive every thing from God." (St. Therese of Lisieux)
Sincerely,
Katie Richardson
Vice Principal