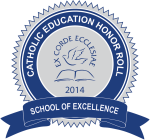 FOR IMMEDIATE RELEASE
September 17, 2014
SUNAPEE, NH – Mount Royal Academy is pleased to announce that it has been recognized by the Catholic Education Honor Roll as a 2014 School of Excellence.
Schools receiving this designation are marked by the integration of Catholic identity throughout all aspects of their programs and excellence in academics. The Cardinal Newman Society released the list of 71 schools from 26 states. Less than 5 percent of the Catholic schools in the United States receive this prestigious honor.
"Since competition began in 2004, the Honor Roll has been a helpful tool for administrators, families, and benefactors in recognizing the quality of a Catholic high school education," said Patrick J. Reilly, president of The Cardinal Newman Society. "The Honor Roll schools are a reminder that Catholic education is getting better every day—not only academically, but in the renewal of Catholic identity—and we are delighted to see the increased level of competition among the schools that participated in the program this year."
This year's Honor Roll schools are described as diverse: large and small, new and long-established, highly selective and those with open enrollment admissions policies, as well as a variety of tuition rates.
"I'm proud of our board, faculty, families, and entire school community for remaining committed to our strong Catholic identity," said Mount Royal Academy Headmaster Elect Derek Tremblay. "Over the past five years, every facet of the school has experienced growth and excellence. I think this is attributed in large part to our dynamic and authentic Catholic culture, which if successful, only attracts more and more individuals to the faith. We form students to be both virtuous and independent. I am so thankful for all of the efforts of each individual in the school community."
Former Mount Royal Academy teacher and current parent, Dr. Mary Bellino, who co-chaired the application process, echoed Tremblay's sentiments. "Mount Royal Academy, past and present, has always strived to go beyond the standard teaching excellence by fostering a love of Christ in each and every student, parent and faculty member," said Dr. Bellino. "It is truly an honor to see Mount Royal Academy listed among the top Catholic schools. We are achieving our mission as a school."
Mr. Reilly will bestow the honor on Mount Royal Academy during a ceremony to be held at the school on September 30th at 9 a.m. The entire community is invited to join the school for this celebration.
###
Mount Royal Academy is a private Catholic school nestled in the hills of New Hampshire's Dartmouth - Lake Sunapee Region. Since 1994 the faculty, families and friends of Mount Royal have striven to provide not only a quality education to the children of our community, but most importantly a formation in Christian faith and morals.  What began as an elementary school, grades Kindergarten through eight, has grown to include a preschool with three-and-four-year-old programs and a liberal arts college preparatory High School.