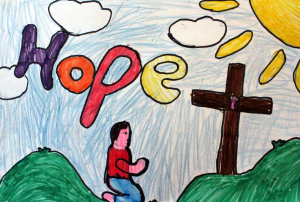 Each month we focus on a specific virtue as an entire school. This month - fittingly enough - students and teachers have been discussing gratitude. The virtue of the month program is critical for the moral formation of our students. It is what makes Mount Royal such a special place.
Although Americans traditionally celebrate Thanksgiving once a year, it is valuable to consistently reflect on what we are thankful for. The Mount Royal school community certainly has a lot to be thankful for: a renovated campus, two new buildings, over 100 students have been added to the school in four years, and there is new interest from the wider community in the growth of the school. There are of course hundreds of individuals and benefactors who have played some part in the recent development of the school, but there is one particular group of people that students and teachers are thanking this month more than others.
We are also celebrating religious education month in unison with all of the archdioceses of New England. Students have been reflecting on those individuals who have been most instrumental in passing along the most important type of knowledge: our faith. Since parents are the primary educators, "the domestic church" is the first school of faith. Across all grade levels, students and teachers are seeking to affirm and thank parents for all of the sacrifices they are making in order to continue their children's education in the faith.
Why is it important to be thankful for religious education? "Gratitude brings joy," an anonymous parent once said. We aim to cultivate thankful hearts in order to maintain a good attitude and proper outlook on life. Ultimately, everything we have been given in life is a gift, and the best way to accept and embrace the gift of life is to be thankful that God has given us the opportunity to know, love, and serve Him.
We are extending an invitation to parents to attend our weekly rosary on Friday, November 30th. Children will be writing original prayer intentions, expressing their gratitude for the gift of religious education. Please consider attending to pray alongside our students and your children.