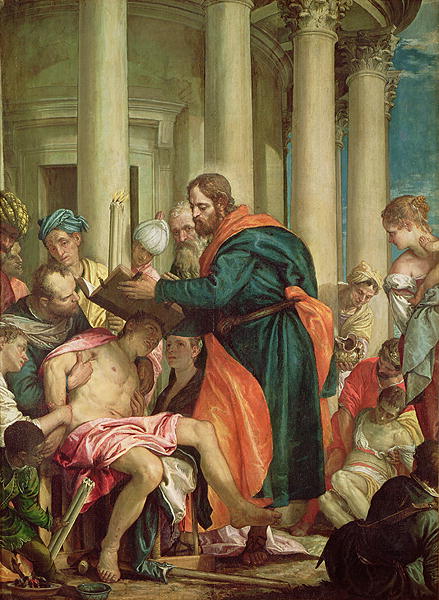 Dear Families, Faculty, and Friends,
On Tuesday, the faculty made our annual end of year mini-pilgrimage to St. Joseph Cathedral for a retreat. We always end the school year in prayerful silence before our Lord; this includes a holy hour, benediction, and confession. Fr. Jason Jalbert is always very hospitable to us - and he was so gracious again to mention the mission of Mount Royal in his daily Mass homily. He exhorted us to faithfully follow the example of St. Barnabas, an unconventional Apostle who passionately taught the truths of the faith. Pope Emeritus Benedict XVI commented on Barnabas in one of his general audiences, and the illustration is particularly pertinent for our mission:
The Church of Antioch sent Barnabas on a mission with Paul... The two, Paul and Barnabas, disagreed at the beginning of the second mission journey because Barnabas was determined to take with them as companion John, called Mark [the evangelist], whereas Paul was against it, since the young man had deserted them during their previous journey.

Hence, there are disputes, disagreements, and controversies among the saints. And I find this very comforting, because we see that the saints have not "fallen from heaven". They are people like us, who also have complicated problems.

Holiness does not consist in never having erred or sinned. Holiness increases the capacity for conversion, for repentance, for willingness to start again and, especially, for reconciliation and forgiveness. 
I spent some time praying on these lines of thinking, and even heard Fr. Jason say to one of our teachers, "Aren't we all a work in progress?". 
And then it hit me really hard this morning: the greatest gift of Catholic education is that is teaches us what it means to be human. There is no other educational philosophy or ideology that fully integrates, animates, and educates the human person. St. Irenaus once said that the "glory of God is a human being fully alive," and I can think of no better way to actualize our humanity than Catholic education.

I am so thankful all of you see this same truth with me.

Because we are a work in progress, we do not retract from establishing goals. Each secondary goal leads to the ultimate goal, heaven. We never really know how one seemingly insignificant act or endeavor paves the way for the final outcome. But we do invoke heavenly aid when seeking to emulate that divine wisdom which sees the whole, not just the parts. 
Thus, as we look to the 2019 - 2020 school year, we will seek to better realize our vision by focusing on the following goals:
1. Increased implementation of the Institute for Excellence in Writing methodology, which includes poetry recitation.
2. Continue to expand diversity of course offerings in junior/senior high school (electives, Extended Learning Opportunities, online STEM and AP courses). Two new humanities electives will be offered: Introduction to Philosophy, and Poetics.
3. Complete update of the science curriculum (second phase of Nancy Larson; Novare Science in grades 7-12); all of the new resources illustrate the harmony between faith and science. 
4. Expand Household program into other mission areas.
5. Continue to grow teacher intern program with Northeast Catholic College.
6. Continue to phase Catechesis of the Good Shepherd pedagogical approach into the Garden classrooms.
7. Creation of math and writing tutorial sessions for students in grades 6-12. This framework is still in development, but the goal is to capitalize on study halls to provide additional, targeted student support with available faculty members in those content areas. 
Ms. Planchet and Ms. Lamontagne will be relocating in the coming months to other parts of the country. We are so thankful for their service to the students; they were both very mission oriented and care deeply about our school. 
We are pleased to announce that Lisa Sweet will join our faculty as the fourth grade teacher, and Isabella Price has accepted the offer to teach junior high and high school math. Both are experienced educators and faithful witnesses to the love of Christ and His Church. 
We do have one position that still needs to be filled, which is a part-time or full time high school science teacher. If you have any suggestions or a good lead, please let me know.
Yours Truly in Christ,
Derek Tremblay
Headmaster